Get a VISA™ Debit Card FREE with your checking account. It looks like a VISA™, and works like a check. Use it anywhere VISA™ is accepted for purchases or cash.
VISA™ Debit Card is a convenient and safe way to pay for purchases, even online.
With a VISA™ Debit Card, you can purchase what you want, when and where you want it.
Using your debit card is faster than a trip to the bank, more convenient than writing checks, and safer than carrying cash. With your VISA™ Debit Card, shopping at home, online or at locations around the world has never been easier.
When you use your VISA™ Debit Card, the payment is automatically debited directly from your bank account. Your monthly bank statement provides you with a record of all your VISA™ Debit Card purchases.
Community Debit Card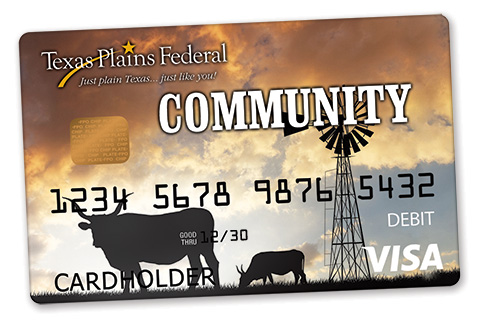 Texas Plains Federal is proud to give our members an opportunity to give back to the community. When you swipe your Community Debit Card on a signature (credit) transaction, we'll donate a percentage to a charitable organization at no cost to you!
Contact our staff today to find out more!
Card Activation
For card activation call 1-855-726-4885. You must call from your primary phone number and provide the last 4 digits of your SSN.
To change your PIN call 1-855-726-4885. The current PIN must be input prior to being able to select a new PIN.
Lost or Stolen Card
What to do when you lose your debit card.
Call the Credit Union as soon as you realize that it is missing.
806-373-6641 or 1-800-272-6641

If it is after hours or on the weekend:
Call the customer service number for Transfund (our Card Processor) at 1-888-263-3370 and they will be glad to assist you. They can locate your card number by your social security number and date of birth.
They will review recent transactions and cancel your card if necessary. It is very important to report a lost or stolen card immediately to avoid fraud and possible monetary responsibility for untimely reporting.
If there is fraud you will need to request an affidavit from the credit union. Please fill this out quickly and return it so that charge back rights can be enforced.